what is DuckDuckGo: DuckDuckGo is a Privacy-focused search engine founded by Gabriel Weinberg in 2008. It doesn't show the personalized result unlike other search engines rather than shows the same results to everyone for a particular query.
In this article, I will share some advantages and disadvantages of using DuckDuckGo instead of Google.
History of DuckDuckGo search Engine
DuckDuckGo was solo-founded by Gabriel Weinberg in February 2008 to provide a safer and private search engine. It was first started with a self-funded company and then it got funded by angel investors in  2011 and now it has 60 employees working to develop this project.
In march 2010 they decided not to track user's search history and show the same result for everyone for a particular query.
In 2014, DuckDuckGo added to Apple's Safari browser as a search engine.
After that Mozilla adds DuckDuckGo as a built-in search option to Firefox. In 2015 They completed 10 million searches per day milestone.
In 2018, DuckDuckGo launched its mobile app & browser extension for all major browsers on the desktop. In 2019, They started using Apple maps to show the local search results for better user privacy.
In January 2021, DuckDuckGo surpassed 100 million daily search queries. This is because DuckDuckGo is now the default search engine of the Tor browser.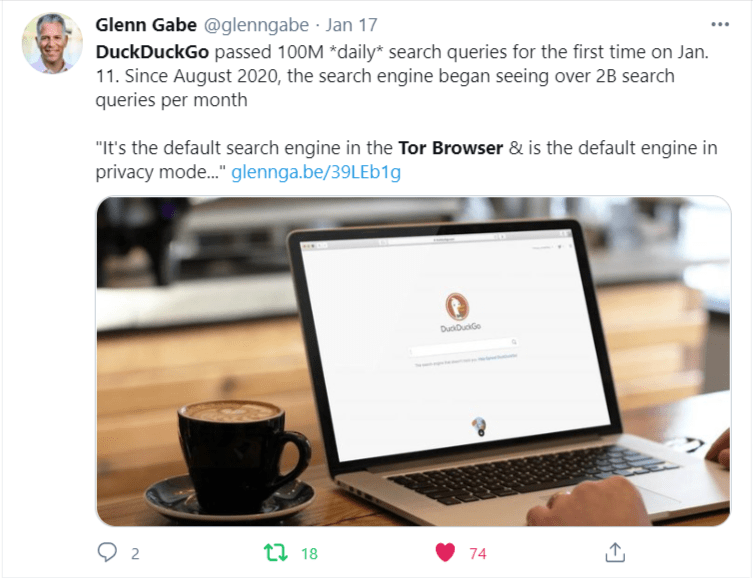 Those who don't know about Tor browser then let me tell you. This is the most advanced and privacy-focused browser that lets you serve on the internet without disclosing your identity.
Now you know the basic history of DuckDuckGo and they are plenty of other search engines that you can use instead of Google. But in this article let's understand the difference between Google and DuckDuckGo and which one is best for you.
DuckDuckGo vs Google
The search feature of both DuckDuckGo & Google is nearly the same but Google is ahead of DuckDuckGo in terms of user experience.
You will find 10 organic results in the SERPs [search engine results page] along with 1 or 2 ads at the top or bottom.
But DuckDuckGo gives you an option to turn off those ads unlike in Google you are bound to see ads. Even in Google, you will see personalized search results based on your location, previous search history, and visited pages.
DuckDuckGo uses its own crawler called DuckDuckBot and fetches data from various other search engines like Bing, Yahoo, and Yandex, and sites like Wikipedia.
It also shows knowledge panels on the right sidebar and the results come from sites like Wikipedia.
You can also see other types of customized search experiences like video cards, Image boxes, and more.
DuckDuckGo also shows recent news for popular search term in it's recent news section just like Google shows top stories. It has also shows latest news article in carosel format.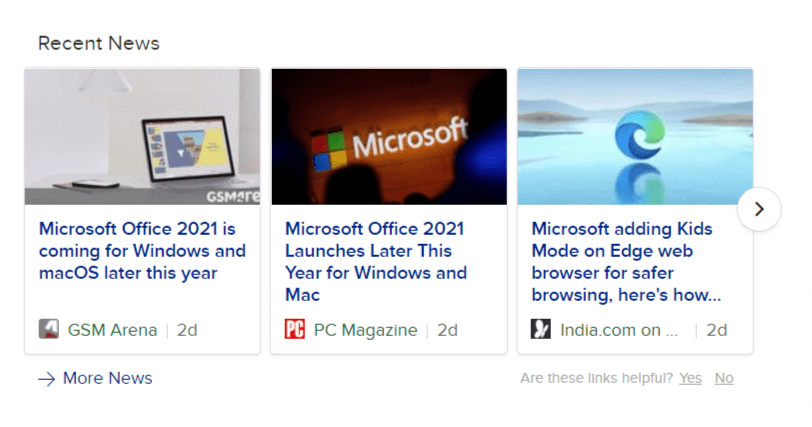 They also started showing related searches at the bottom of the page and other SERPs features.
You can also individually search for images, videos, news, and maps on the search result page.
DuckDuckGo is not that good in the Instant Answers section but shows accurate and similar search results.
Pros of Using DuckDuckGo
Privacy
DuckDuckGo is made to protect your privacy in search engine and now they are using onion routing and other encryption technology to protect your online identity.
Unlike other search engines like Google and Bing, DuckduckGo doesn't track you for ads and also block trackers of other websites on the web.
You can also use it as an adblocker as it blocks the majority of ads shown by a website.
Easy to Use
It is an easy to use search engine which provides a clean user experience and doesn't fill search pages with lots of ads. The best part is you can also turn off ads from it's settings if you want.
Now they are showing serps features like Knowledge card, videos, local maps, images , people also ask, search related to and more.
Growing in Popularity
The popularity of this search engine is growing day by day and more users use this as their primary search engine.
Cons of Using DuckDuckGo
DuckduckGo is not yet providing accurate result just like Google because Google has the largest audience with lots of user data that collected over time.
Conclusion
If you are more concern about your online privacy and want to protect it then DuckDuckGo is the best option for you. But, that does not mean that Google is completely evil. You can still use Google for your normal searches.
But, if you want both user experience along with better privacy then Bing will be a good option for you.
It's totally up to you whether you choose Google or any other search engine because privacy is a myth in the online world as everyone is trying to track you in some ways. So, make your decision wisely to better protect your data and privacy.
So. what is your favorite search engine- let us know in the comment section and don't forget to share this article on social media. Thank you.
Recommend Reads
If you feel this guide is useful, Please do check out more outstanding staff here. For the updates on the latest tech news, gadgets, and tips and tricks. Follow us on our Instagram.