Whatsapp is a secured messaging app and all chats are end to end encrypted which means your chats will be seen by you and the person who's is chatting with, but if you are surrounded by intruding persons and by chance if they access your phone physically then they can see your private chats, So to avoid that I will show you the cool trick "how to hide WhatsApp chats without any third-party application" this method works for both Android and IOS devices.
I've had personally seen the people where they ask someone's phone to make a call and they secretly saw your chats and your gallery and trust me that is deadly irritating.
If you want to hide your personal chats from the WhatsApp chat list you can follow the below steps
How to hide WhatsApp chats in android?
Open WhatsApp and click and hold on the chat, you wanna hide and you will get the options in the top 🔝 bar as shown in the picture
Now click on the archive button, now your chats are going to the archive folder and those chats are no longer visible in the chat list
To access those, scroll down the chat list and you will find one option Archive at the bottom of your chats. By clicking that you can see the chats that you have hide
How to hide WhatsApp chats on iPhone?
open WhatsApp and tap on the edit option, you will find that in the top left corner
and select the chat you wanna hide and click on the archive
then those chats are not visible in the traditional chat list
to open or unhide the chats in iPhone
swipe up the chats window on your WhatsApp
you will find the option called archive
Click on it and you will find the chats you hide from there you can read or you can remove from the archive
How to Setup Fingerprint Lock on WhatsApp
Since we are talking about security I would like to tell you how to set up a fingerprint lock on WhatsApp. after Enabled this feature, whatsapp will ask you to scan you finger inorder to open the whatsapp
Note: This will be available to the phone which consists fingerprint sensor.
Also read : How Does WhatsApp make earn money
first, open the WhatsApp app that is installed on your phone
In the top right corner, you will see three dots click on that, go to settings
In the options click on account and privacy
Then go to privacy, scroll down you will see the Fingerprint Lock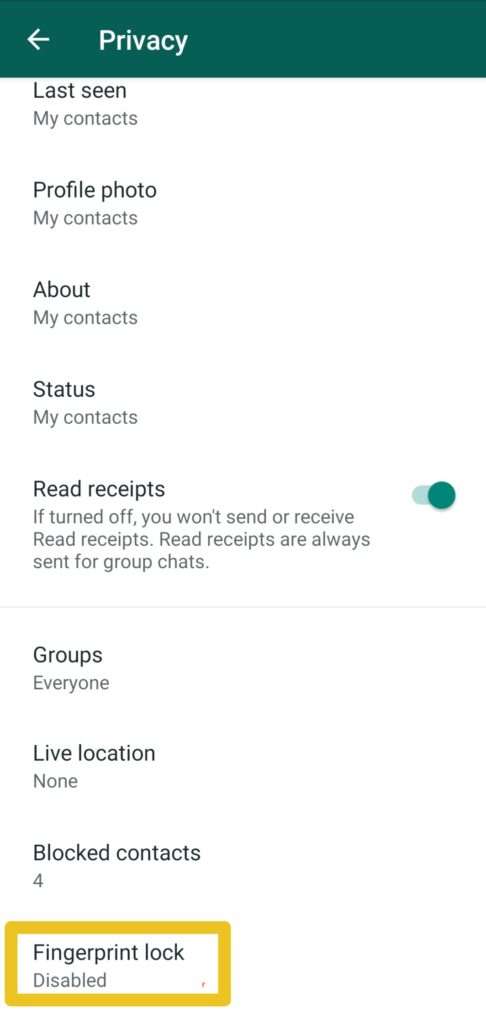 Now you can activate it and make your chat secure