Hi everyone today I want to show you. How you can turn on dark mode in Microsoft word wait hold up Microsoft word has had a dark mode for a while. But why I am writing this article is because in the past when you turn on the dark mode it only changed the ribbon to dark but the actual document canvas itself was still white like the image below.
When you think of dark mode that's really only going about halfway there microsoft got a ton of feedback that it just wasn't good enough so they went back and now when you turn on dark mode it changes the canvas to dark as well we're going to take a look at how you can turn on dark mode in microsoft Office.
Let's see how we can make things look darker here. I am Microsoft Word and I don't know about you but this is extremely bright and especially when you're sitting in front of a document for a very long time it really starts to strain your eyes. Let's go ahead and turn on some dark mode it's extremely easy to do.
How To Enable Dark Mode In Microsoft Word
 Step 1: Go to the top left hand corner and click on the file menu within file
 Step 2: let's go down to the bottom left-hand corner and click on account within the account 
Step 3: Once you open the account, view right about halfway down there's an option called office theme and by default, it's set to the colorful theme this is the very bright experience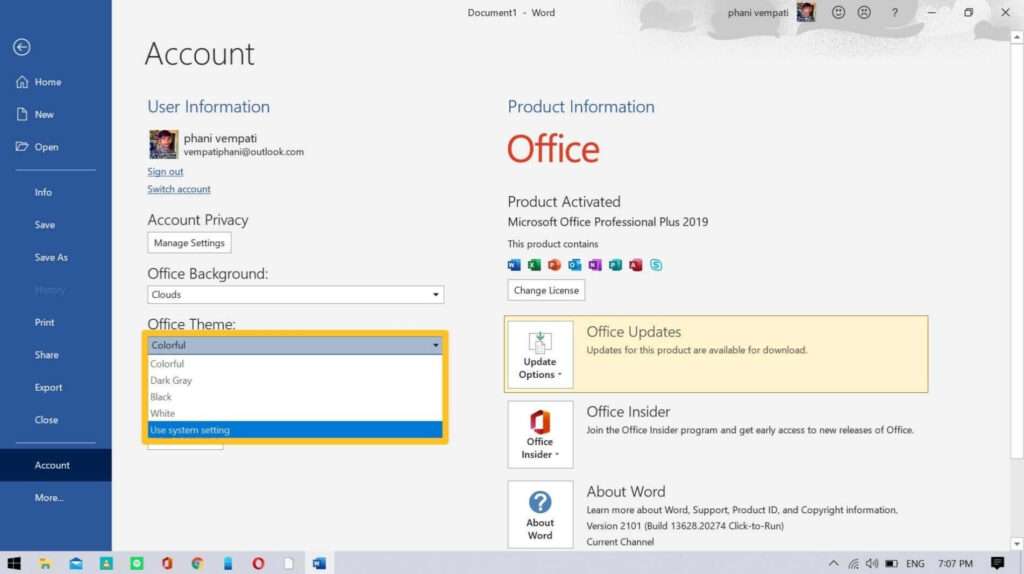 Step 4: you have a few different options like dark gray black and white if we want to take advantage of the new black theme or the dark mode.
Also Read: Dark Mode is now available on Google Assistant and App.
let's click on the word app and look at that it's already changed the account screen to the new dark mode. When using dark mode when you turn on dark mode not only does it apply it to word App but it also applies it to all of your other office applications so it's really kind of like a universal setting here if you pull over microsoft powerpoint or microsoft excel you could see that it turns on dark mode.
For more tech tips and tech updates follow our on Instagram and do share this article with your friends